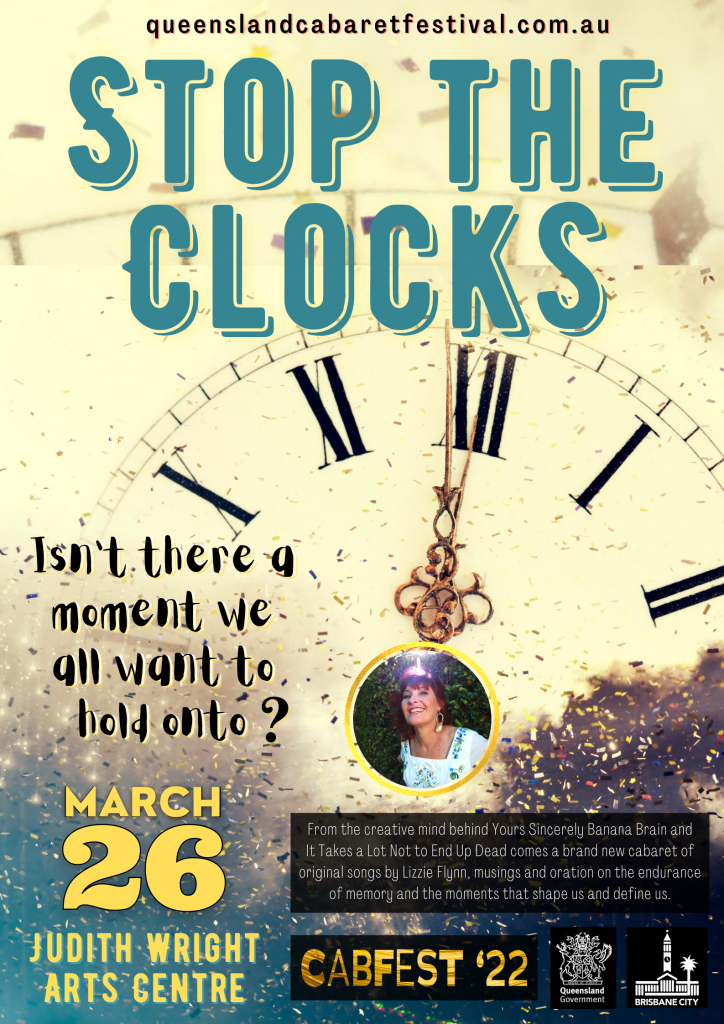 Isn't there a moment we all want to hold onto?
Sunlight on our face when we were 5.
First kiss in a car that was falling apart.
The dog that seemed to choose us, instead of the other way around.
5pm, 26 March 2022 – Judith Wright Centre, Fortitude Valley
Tickets – $32 to $45
With original songs by Lizzie Flynn, Stop The Clocks is a join the dots puzzle of the tiny moments that make up our lives.
From the creative mind behind Yours Sincerely, Banana Brain and It Takes a Lot Not to End Up Dead comes a brand new cabaret of original songs, musings and oration on the endurance of memory and the moments that shape us and define us.
PERFORMERS
Lizzie Flynn, Ella Macrokanis, Peter Stewart (piano), Benja King (double bass), Gareth Mewes (violin), Samuel De Santi (violin, banjo, guitar), Andre Bonetti (Percussion).
TICKETS
Table seating$42/$45 and $32/$35 for bank seating
VENUE
Judith Wright Arts Centre, 420 Brunswick St, Cnr Berwick St, Fortitude Valley QLD 4006
Please note: In line with Queensland Health regulations, all patrons and visitors to Judith Wright Arts Centre will be required to be fully vaccinated.
Please purchase tickets with confidence that should you be required to isolate or be waiting for COVID test results at the time of the show you will receive a full refund.
About Lizzie Flynn
Her angelic vocals and heartfelt matter leave no dry eye in the house. ausmusic.org
Flynn's tone and phrasing are reminiscent of Suzanne Vega with clarity to match our wide northern skies. Rhythms Magazine