FIRST SINGLE 'Drink Your Wine' RELEASED
COMING SHOWS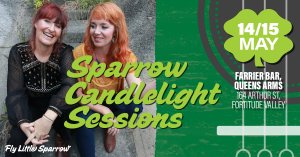 Friday 14 May 2021: Fly Little Sparrow – Sparrow Candlelight Sessions, part of 2021 Anywhere Festival, Farrier Bar, Fortitude Valley, QLD – CLICK FOR MORE INFORMATION
Saturday 15 May 2021: Fly Little Sparrow – Sparrow Candlelight Sessions, part of 2021 Anywhere Festival, Farrier Bar, Fortitude Valley, QLD – CLICK FOR MORE INFORMATION
Lisa Brennan and Lizzie Flynn come together to sing harmonies that emulate riding on the wings of a strong-willed bird. Heading on a flight path of beautiful harmonic arrangements, their eclectic repertoire and commentary will take you on a journey from fragility to hope.
Fly Little Sparrow debuted at the 2019 Illawarra Folk Festival, with a five-piece line up which included double bass, violin, and drums. Songwriters in their own right, Lisa and Lizzie have performed in various bands and projects.
Lisa Brennan, was a part of Triple J's first unearthed band 'Ode to a Goldfish', which saw her supporting acts like The Finn Brothers, Christine Anu, The Whitlams and many others. Lisa has also supported acts as a solo artist like Jeff Lang, The Idea Of North, and Lucie Thorne.
www.lisalazuli.com
www.facebook.com/ LisalazuliSongs
Lizzie Flynn writes songs that blend a little satirical storytelling with a lot of joyful emotion. She has been a vocalist and songwriter for a variety of bands and theatrical productions, and has performed at music festivals throughout Australia, including The Planting (Woodford 2018), Maleny Music Festival (2018) and Illawarra Folk Festival (2019).
Contact Lizzie Flynn: lizzieflynn@lizzieflynn.com